Join us for a 30 min multi-player playtest on Saturday, 12th of September, 2020
We're running a public, open Alpha playtest of Age of Ascent (AoA) on the 12th of September at 1900 UTC. That's 8pm in the UK, and 2pm Central US time.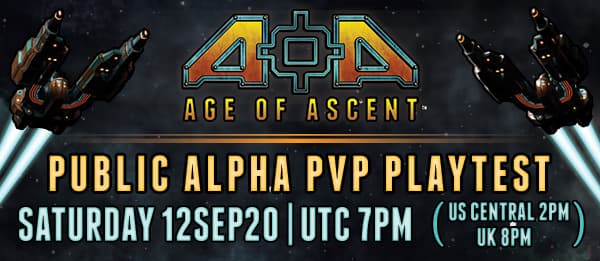 The playtest will run for half an hour only.
To reserve your place ahead of time, sign your pilot up!
Please come back on the 12th to the Age of Ascent portal and you will be admitted to the playtest. You can add to Google Calendar or download .ics event if you want a calendar reminder.
We're testing the PvP combat module again - but with the new technology base and our awesome new visual style! Everyone will be in the same ship loadout, and it's everyone for themselves!
Other modules of the game such as trade and industry, mining and mission running will be in other playtests later this year.
After the playtest has finished, please do come back to this thread to give us your feedback and comments!
We are only testing the PvP experience in this playtest, not the full game!
You'll get the best experience if you have equipment suitable for piloting (eg mouse and keyboard, or a gamepad controller)
You'll need to be in Google Chrome or Microsoft Edge web browsers on any OS of your choice
Players from the last playtests will notice that the radar is currently turned off - this is because it is being substantially enhanced at present
For this test we've got the music soundtrack turned off by default
After the playtest has finished, please do come back to the forum thread about this playtest or comment below which is shared with the forum, to give us your feedback and comments!
NOTES FOR THIS PLAYTEST FOLLOW
In addition to the notes from the last playtest, this playtest has the following changes
A bug that caused the mouse and keyboard to be locked out when a joystick was attached has been resolved. Please note that we do not currently support joysticks, but will do in the future. Gamepads work fine!
We're testing out a new (lower damage) weapon for all ships
Names are now displaying on other ships, so now you can see who you're shooting!
We're in a different part of the universe for this playtest, with an updated skybox and new space station models
Asteroids have been refactored entirely for a much lower polycount, but with more detailing on them
We look forward to seeing you there!