Playtest Weekend Sat 15 May 2021 to Sun 16 May 2021
Hi everyone,
We are excited to be holding another alpha playtest weekend, where we are testing space integration! That means for the first time, you can be in space, flying a ship and doing some mining, then dock in the space station and do some manufacturing or trading.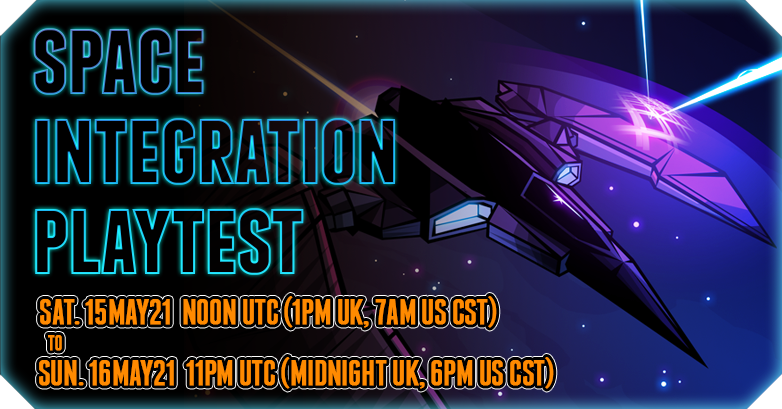 The playtest will run from noon UTC (1PM UK, 7AM US CST) on Saturday to 11PM UTC (MIDNIGHT UK, 6PM US CST) on Sunday. You can click here to play.
Here's a list of key new developments – please have a go and let us know what you think:
This is the first time we have joined up our in-space gameplay with the in-station functionality, allowing you to see how everything ties together.
There's only one ship this time, which is your test mining barge. For this weekend, other ships are not available to purchase on the market.
This time, when you fly in space, weapons are unavailable and there is no PvP.
We have a new targeting system including off-screen indicators, the ability to select items of interest and a contact list (which stays on screen when you are in space).
Mining is now live – you can locate and target an asteroid, mine with your laser and receive goods in your inventory. Please note, there is a cool-down period after each module activation, displayed at the bottom of the screen. At the moment, you have an unlimited cargohold, which will change.
When targeting an object, your target status and condition is showing on the HUD, including when in range, out of range and invalid target for mining.
For those of you who participated in our PvP playtests, you will see that audio is back when in space, with new messages and sounds.
The radar has been enhanced and now shows asteroid positions, as well as ships.
We now have a notification system with real-time updates on things that are happening to you and near you, in the universe.
In-game mail is live; you can send and receive messages with other players.
There are lots of new UI enhancements, including:
New space box – brighter visuals
Modules on bottom of screen now interact with what the player is doing
We have changed the key to enter space from tab to space
New top lefthand UI status indicators – who you are, your wallet status and your current map location, as well as the dock/undock button (when in range) – with expand/collapse functionality, too
New flight control keymap is now available at the top of the screen with added functionality – radar zoom and select nearest object of interest
Controls on screen for 10 seconds when you go into flight mode, and can bring them back by using the space bar to exit flight mode and return to it.
Here's the enhanced in-station functionality to test:
In Trade, we now have new search filters – all items, what's available at the station, what you have available to sell, plus filters for tech level and size.
We have now implemented drag and drop in Inventory, and have background sync between windows such as Inventory and Trade.
When you look at items in inventory and right click on them, there is now an item pop-up with some basic information about the item - this will be enhanced to display custom data for each item.
Also, you can pin the item pop-ups to keep them open and compare multiple items
Manufacturing layout enhancements – please give us feedback.
For more information on background system changes, please take a look at the patch notes posted by GM Thundercat.
Also, a big welcome to GM Embyr, our new dev!
GM Warrior Bunny